Does this sound familiar?
You're spending way too much time than you'd like deciphering labels

You've tried to "google" the diet, but now you're more confused than ever

You're gluten free, but still having symptoms.....so you wonder if you've been glutened or if it's something else

You're not confident in communicating your needs to restaurant staff so you just avoid it all together or limit it

Fear of cross contact is stopping you from living your life to the fullest
You're Mentally Exhausted
You think about celiac 24/7 and it seems all consuming. What you'd love is a way to make living with celiac easier so it doesn't take up so much headspace. You're looking for a step by step plan that is easy to follow that keeps you celiac safe but also helps you find relief from the mental burden of the disease.
Imagine what life would be like if:
You could confidently read a food label with the 'snap' of your finger

You knew what to say to restaurant staff so they took your needs seriously

You didn't dread family and friend events

You could find relief from food fears and anxiety

You felt confident to explore the world...gluten free!

You knew what to eat and supplement with to fast track healing

You could save money on the GF diet because you aren't relying on only purchasing GF labelled foods

IT'S POSSIBLE
 Stop letting celiac rule your life and find relief from the mental burden of the disease
Introducing Live Gluten Free with Ease
A 12 week online course helping celiacs to master the GF diet so they can live GF with more ease
Here's Why It's Unlike Anything That's Out There
I have celiac disease too.   And, fear and anxiety got the better of me early on in my diagnosis.  In order to help myself,  I ended up doing a deep dive into the research to find out everything on celiac disease to help myself get my life back, reduce my anxiety, but also keep me celiac safe.
I also know what you want to make life easier because I wanted it to!  So, I developed these prime resources that my clients now also love and use in their life.  From guides to eating out, to label reading, to planning a GF vacation to navigating social situations, I have resources for it all.
Not only do I have  personal experience with the disease, but I am also an experienced, gut health dietitian and can help you achieve symptom relief with simple + practical tips.  
I was once in your shoes with symptoms that didn't go away post diagnosis.  But, there is no need to overhaul your diet with unnecessary elimination diets, supplements or fancy 'gut health' tests. You'd be surprised how digestion + symptoms can greatly improve with some celiac specific changes.
Live Gluten Free with Ease
"I wanted to let you know I found the course tremendously helpful. I have learned some life changing information that will support me through my life and help me thrive with Celiac disease.Learning to love all foods again. The content and the way the course was structured was very helpful, well explained, and prepared. I can see your passion around this and the amount of time and thought you have provided into creating this valuable course. I feel grateful to have had your support both as a RD and fellow Celiac."
Live Gluten Free Ease
"Seeing the actual harmful amounts and getting concrete info about what 20ppm actually looks like. Really helped reduce my anxiety. Great course, I would recommend this to anyone newly diagnosed. I feel way less anxious and so much more comfortable in my own home and going out than I did. Thank you so much!"
Live Gluten Free with Ease
"I am really enjoying the video lessons and reading the downloads. So happy to have found your course. You are so clear and concise in the information you relay to us. I've just finished my first go-through of the eating out section and feel much more confident to give it another go."
Live Gluten Free with Ease
"Selena has given me the confidence and tools to read food labels, as well as how to eat out. This may seem simple but is life changing as now I don't second guess my food choices. As well I now have the confidence and freedom to eat out at restaurants with friends and family. Something I have not done in over a year. If you are struggling or are new to Celiac Disease I strongly recommend working with Selena. My only wish is that I reached out to her sooner!"
Modules
What's Inside the Live Gluten Free with Ease Program?
Learn the exact steps + strategies  I've designed to help you master the gluten free diet so you can live gluten free with more ease. 
My flagship course, Live Gluten Free With Ease, comes with resources, guides, cheat sheets, over 40+ videos, an extensive recipe library, and more.  It's everything you need to become a confident celiac as quickly as possible.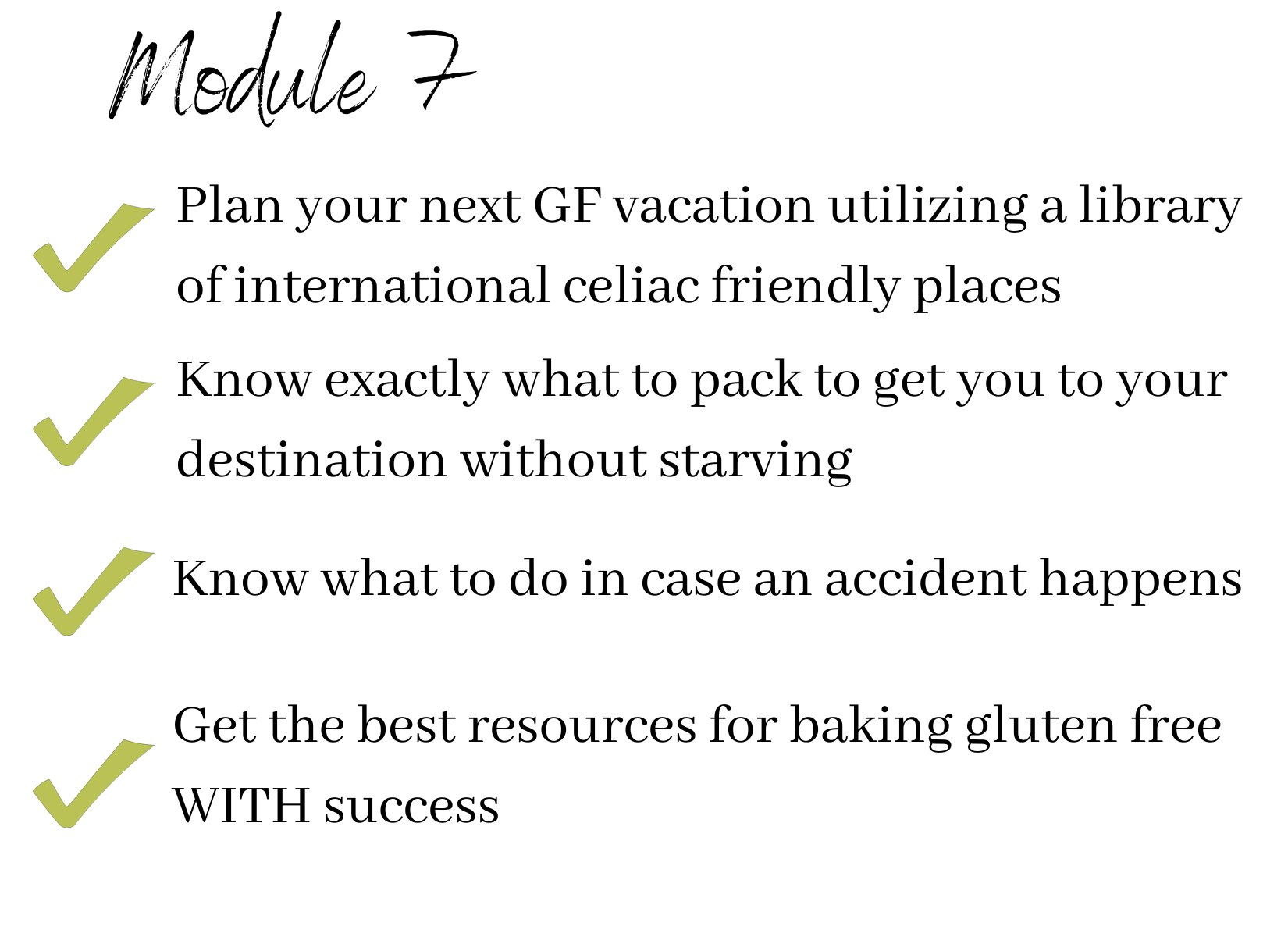 Live Gluten Free with Ease
"I started going through module one and the information above safe levels of gluten exposure and cross contact gave me so much hope that I could actually live my life without fear of food that I broke down and cried. I was so overcome with emotion, relief and hope that I just sobbed. I have no words of gratitude for this immense gift."
Are You Ready to Live Gluten Free with More Ease?
Meet Your Celiac Coach
Selena Devries, RD
Hi, I'm Selena, a dietitian living with celiac disease and specializing in the dietary management of celiac disease. I have over 10 years of experience helpings celiacs live a happier and healthier life. I'm the creator of Live Gluten Free with Ease, a course that helps celiacs master the gluten free diet so they can think about celiac less and enjoy their life more! After helping myself and hundreds of others thrive on the GF diet, I developed this step by step online course to help others live gluten free with more ease.
How long will I have access to the course?

You will have lifetime access to the program portal!

Are payment plans available?

Yes, there is the option of splitting the cost of the program into 2 monthly payments of $285. Please email selena@healthbean.ca if you would like to pursue this option.

Can this program be covered if you have Dietitian benefits?

Many clients have been able to get reimbursement for this course if they had a health spending account. Course participants also have the options to add on 1:1 appointments with Selena. 1:1 appointments are often covered by extended benefit plans if you have dietitian coverage.

What can I do if I have questions?

You will have 12 week access to the private FB group to ask questions. Selena moderates this group daily.

I've already seen a dietitian, how is this different?

I have celiac disease so I understand the daily challenges of living with celiac. My advice is based on current research as well as how to apply this knowledge, simply, in our lives. My course has unique resources to help you beyond just eating gluten free - to eating out, travel, social events, balancing your plate, to finding relief from symptoms, this course has it all. It's your one stop shop for celiac confidence!
Live Gluten Free with Ease
"So many things were so incredibly helpful, but particularly the information on travel, the glutened tool kit, and the celiac plate. All the resources are SO helpful and makes me feel much less stressed about navigating so many areas. This entire course has given me so much more confidence and allowed me to relax in many ways because I know now what to direct my energy toward and what fears to let go of. Thank you!!